An employer brand is like a Tinder profile. When someone makes the decision to swipe right, it's because they like what they see, and they want to know more. However, finding out that their date is nothing like what they saw online is an instant turn-off.
The same goes for potential job applicants. They're "swiping right" on your company because they think you'll be compatible. If that initial expectation doesn't match with their actual experience when they enter the workplace, they're going to feel duped, and your retention rate is going to suffer.
Employer branding is an authentic depiction of the employment experience at your company. It's not a description of what you think your brand should be, and it's not something you create out of thin air. It's something you uncover. You need to ask yourself "Who are we right now?" not "Who do we think we want to be?"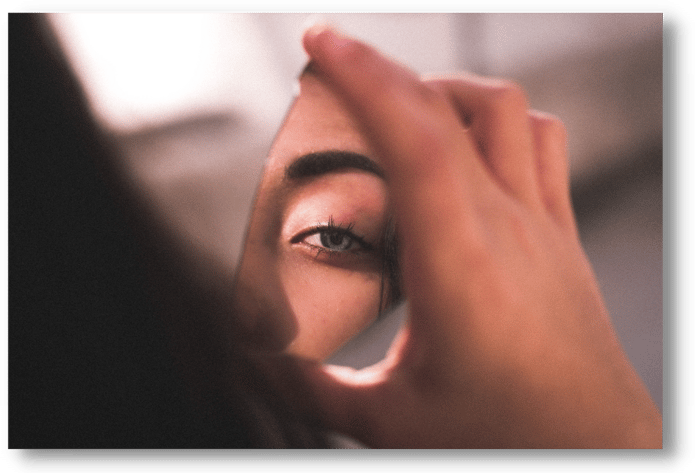 HOLDING UP THE MIRROR
So how do you go about discovering your own unique employer brand?
Founder of Amazon.com, Jeff Bezos, famously said, "Your brand is what people say about you when you're not in the room." In other words, your employer brand already exists. You just need to discover it. Only then can you refine that information and consolidate it into a cohesive statement.
Communicating your employer brand starts by holding up the mirror and taking a long, honest look at what you see. To get the ball rolling, start by asking a few crucial questions:
1. HOW WOULD EMPLOYEES DESCRIBE THEIR EXPERIENCE?
Employer brand can't come from the "corner office." It needs to come from all levels of the company, so before you dive in, start by checking out your online reputation and conducting qualitative research through focus groups and surveys. Look for the commonalities, and use those talking points to shape your branding.
Let's be honest. Not everything you read is going to be positive. However, that doesn't mean you should ignore it. If you notice a common complaint, now's the time to start thinking about how to fix it. If, for example, you want to say that your workplace offers great opportunities for advancement, first find out if that's the current reality. If it's not, decide what is missing. Is it ongoing employee training or mentorship? Great! Decide how you need to fix these processes to align with the company's goal. A feedback loop is essential and shows your employees that you care about their experience.
2. WHAT ARE YOUR COMPANY'S CORE VALUES AND MISSION?
Today's job seekers want to work for a company that shares their vision, ethics, and goals. They're attracted to companies that use their company mission statement as more than just window dressing and show an active commitment to their ideals.
So, your job is to take an in-depth look at your company's stated goals and consider the type of talent that is needed to achieve that vision. "Tech-driven," "socially conscious," and "environmentally friendly" are all common buzzwords we see in current branding trends. However, you want to go beyond buzzwords and actually consider how those ideals play out in day-to-day business decisions.
3. HOW DO YOUR COMPETITORS DEFINE THEIR EMPLOYER BRAND?
Discovering your employer brand isn't all about navel-gazing (although self-reflection is certainly a huge part of it). You also need to do some digging into what your competitors are up to so you can avoid positioning your brand in the exact same way as your competitors.
In a candidate-driven market, your prospective applicants have a choice of where they want to work, and you can bet that they'll be comparing your employer brand to that of your direct competitors or organizations seeking the same type of talent. So, ask yourself, "What do we offer that no one else can?" Staying competitive is all about finding your niche and playing to your strengths.
4. WHAT DO YOU WANT TO ACHIEVE THROUGH YOUR EMPLOYER BRAND?
Finally, you need to consider the measurable goals that you want to reach. Are you aiming to improve retention rates? Cost-per-hire? Employee satisfaction? Knowing your goals and developing a way to track them will be key to shaping the language and messages associated with your brand.
The research phase is all about owning your company's successes while also recognizing and developing a plan to fix your failures. Sometimes, the truth hurts, but, trust us, it's worth the pain. After all, the path to improvement can only start once you've identified the problem.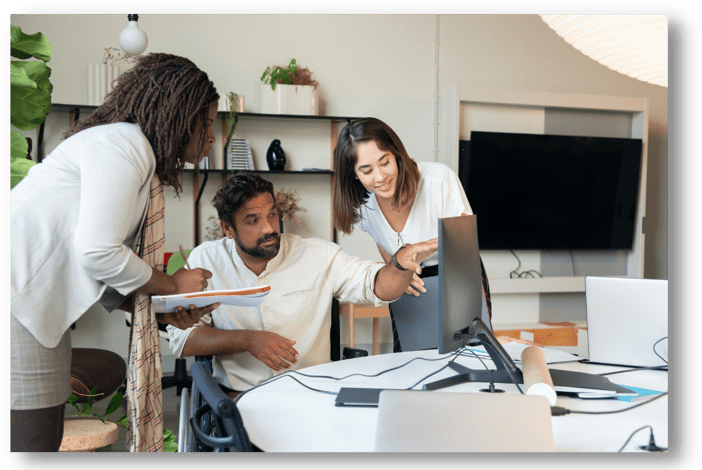 TIME TO BUILD YOUR BRAND
Now that you know what people are saying about you, it's time to synthesize and consolidate those ideas into one cohesive brand identity.
A good employer brand should consider the following:
1. COMPANY CULTURE
Understanding and accurately describing your company culture is essential to attracting the right candidates who will stick around for the long haul. Some companies operate with a more formal management structure while others lack that traditional hierarchy. Some emphasize teamwork, while others value workers who can get the job done independently. Some workplaces are casual, and others require a suit and tie.
Whatever your style, you want to attract the type of person who thrives in that environment. You can't do that if you aren't honest. Ask yourself what exactly it is that makes your company a unique place to work, and build that description into your brand identity.
2. EMPLOYEE VALUE PROPOSITION THAT RESONATES WITH THE TARGET AUDIENCE
"What's in it for me?"
Although it's rare that you'll hear someone put it so blatantly, that's the underlying question that prospective candidates are asking. So, besides a paycheck, what do you, as a company, have to offer? Maybe it's an awesome benefits package, employee skills training, or even just a causal work environment. Let people know why they should be excited to come to work for your company.
Consider who your ideal candidate would be. (What are they like? What are their dreams? How do they work best?) Then tailor your approach. A job description or recruitment message has to have benefits that resonate with its target audience. For example, if you're trying to hire in the tech industry, it's likely your target audience will care more about getting to tinker with the latest technology than they will about having 5 different healthcare plans to choose from.
3. COHESION WITH THE COMPANY BRAND
We should start by saying that your employee brand should not be an exact copy of your company brand. Each one requires a tailored approach to appeal to different audiences. What appeals to your customers won't necessarily appeal to a job seeker.
However, your employer brand should complement your company brand. If, for example, innovation is at the core of your company brand, your employer brand should also address that philosophy and how it affects the overall company culture.
Keep in mind that the way other perceive your employer brand will also influence their overall impression of the company. If, for example, a candidate has a bad interview experience, that may affect whether or not they buy your products in the future. Conversely, your employer brand could have a positive effect on business. People like to buy from companies that treat their employees well.
Above all, your employer brand should be honest. People will figure out pretty quickly if they've been duped, and that's when your retention rates and employee satisfaction start to suffer.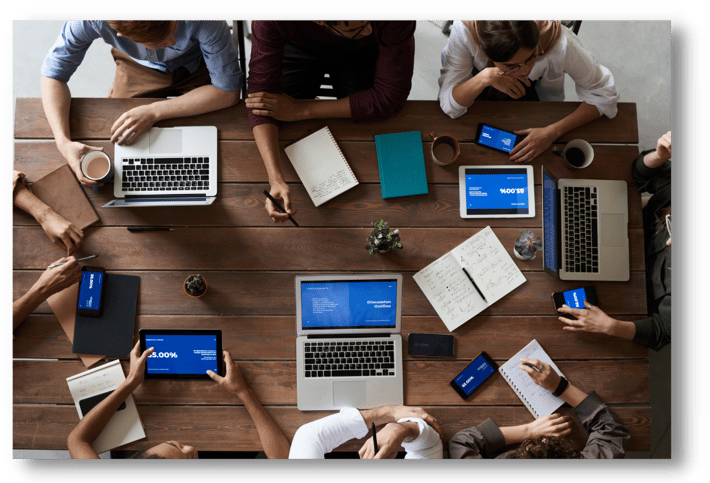 SHOW AND TELL: HOW TO COMMUNICATE YOUR EMPLOYER BRAND
With social media, employer review sites, and other online comparison tools, prospective candidates have a leg-up in the modern job market. Without ever setting foot in the door of a business, applicants know how much the average employee makes, whether or not they get along with upper management, and even if the coffee in the breakroom is any good.
To compete for today's top candidates, companies need to take control of their reputation (before others do it for them). That's why you need to take a proactive approach to sharing your employer brand through your various talent marketing channels:
1. SOCIAL MEDIA
Social media provides the human element that's needed to make a brand feel real and authentic. It's the personal touch that makes the company more than just a faceless entity.
Use social media to provide a behind-the-scenes look into what it's really like to work at your company, and give employees an opportunity to do the same. Just be sure to outline what is and isn't okay to post to public channels. After all, there is such a thing as oversharing.
2. CAREER SITE
Your career site is the top destination for serious applicants who want to know more about your employer brand. So, go beyond job descriptions, and think about other content you can produce that will add value to your site visitors. Maybe it's employee testimonials or success stories. Maybe it's a detailed outline of the application and interview process. Make sure that it all ties back to your core brand identity.
3. CANDIDATE EXPERIENCE
It doesn't just matter what current employees think of your company. Candidate experience during the hiring process is equally important. Word travels fast among job seekers, and nothing will put a damper on your company's reputation faster than a bad candidate experience.
So, treat your candidates like customers. Make the process fair, responsive, and friendly.
4. EMPLOYEE REFERRALS
It's important to get everyone on board the employer branding train. Your current employees are your greatest brand advocates, so make sure they're kept in the loop. Take time to share what you're doing to clarify and improve the employer brand.
Consider setting up a referral program to reward employees who share job opportunities with their network or encouraging them to get involved on social media.
Keep in mind that your employer brand identity should be consistent across all channels. Make sure to use uniform language and messaging in all your written materials and communications. You can even provide employees with sample messages to share over their own social channels or in their real-life interactions to ensure that they're accurately representing the brand as well.
WARTS AND ALL
As we wrap up this discussion of employer branding, we'll leave you with one last story:
In January of 1649, during an argument between the reigning monarch Charles I and Parliament, a certain Oliver Cromwell became the most powerful man in one fell stroke (literally) when he ordered the king beheaded. He then became Lord Protector of the realm. For the first time in the country's history, there was no longer a monarchy. When the portrait painter came days later to paint Mr. Cromwell's political image, he had the audacity to ask the Lord Protector— whom, let us not forget, just had a monarch beheaded—if he should or take artistic liberties with (or, in modern terms, "photoshop out") his warts. (Apparently, Cromwell wasn't much of a looker.)
In response, Mr. Cromwell replied: "Paint me, warts and all."
This is exactly the kind of tough-skinned response you should take during the employer branding process. It's not a matter of pride; it's a matter of false advertising. You must be willing to take a good hard look at the current state of the employee experience. Only with the whole picture, warts and all, can you make decisions that improve everything from retention and satisfaction for your current employees to candidate experience and talent pools during the hiring process.
---
Want more information?
Insight on an existing challenge?
An outside perspective on an internal issue?
Contact Wicresoft's full-service Talent Acquisition Services experts, specializing in advisory, solutions, and operations, to improve all aspects of talent management. We will help you get the results you're looking for, after all, getting results is what we do best.