The Covid-19 pandemic dramatically accelerated digital transformation for many organisations. Employees suddenly became dispersed, working remotely while still needing to connect, collaborate, and continue as normal. This led to an "enforced" adoption of Microsoft 365, primarily Microsoft Outlook for email and Microsoft Teams for video calls and meetings. It's a great time to ask: have those who invested in this productivity software been fully utilising their subscription and maximising workforce productivity? The answer is generally no.
While many employees are familiar with the classic Microsoft 365 apps like Word, Excel, and PowerPoint, many are not fully aware of all the tools included in the Microsoft 365 subscription. This lack of awareness often generates time waste and financial drain, because employees are simply repeating old habits.
Examples of common inefficiencies include:
Manually doing tasks that could be automated

Experiencing issues with version control from emailing local copies of what should be a live document shared via links
Emailing to coordinate meeting times
Does this choppy workflow sound familiar? In this blog, we discuss how to become more productive, enhance communication and collaboration, and save money, all with apps and features included with most Microsoft 365 Business subscriptions. Additional features are available as add-ons for a modest fee.
Enhance Collaboration and Communication
Microsoft Teams Channels and Chat
Microsoft Teams is a unified communication and collaboration platform that combines workplace chat, video/audio meetings, collaboration, and application integration. Here are a few ways to ramp up team collaboration within Teams:
1. Customise Teams by adding notes, websites, apps, and links to regularly used resources in the channel tabs for easy access
2. Send quick messages via chat instead of email to avoid needlessly clogging inboxes
3. Securely co-author documents together at the same time, reducing email time wastage, version control issues, and more
4. Create Teams channels specific to a particular project or function so all documents and chat messages are stored together in one easy-to-access location
5. Collaborate with external parties for easier communication with clients via a dedicated Teams channel
Make Teams Calls

& Meetings

More Powerful
Use Teams for telephone calls, anytime, on any device, and anywhere you have an internet connection. This can be done through Microsoft Teams Phone or by integrating a third-party cloud telephony solution. Whether using telephony or video calls, there are tons of features to take advantage of, including:
6. Team collaboration using features such as whiteboard and live documents to edit or brainstorm simultaneously
7. Make meetings more accessible with live captions, translation feature, and live transcription, which is captured in real-time and is available during and after the meeting
8. Recording meetings to watch back at a convenient time or send to a colleague for asynchronous forward motion
9. Upgrade to the newly launched Microsoft Teams Premium license to boost your meeting experience with additional features and functionality such as company branding and meeting templates
Be More Productive
Fully

U

tilise Microsoft Outlook
While Outlook is an email platform, it can be used for more than sending and receiving emails. There are several ways to increase individual productivity as well as team collaboration in Outlook, including:
10. Create folders so emails on a particular topic, or from a particular sender, can be kept together in one place and easily accessed
11. Set up a Focused Inbox. This function intelligently pre-sorts emails as the user receives them, putting important and actionable messages into "Focused", while fodder emails go to "Other". This prevents the inbox from becoming needlessly cluttered and reduces the number of distractions throughout the workday.
12. Gain insight into daily activities with Viva Daily Briefing. This daily email will remind the user of upcoming due dates, tasks that were assigned to them, and questions in previously read emails that may have gone unanswered, amongst other things. This summary makes setting up a time-management structure around pre-existing commitments quick and easy to ensure deadlines are met.
13. Outlook's rules and filters feature allows you to sort and prioritise incoming emails automatically. Based on specified criteria, such as the sender or subject line, this feature helps you focus on the most important emails and avoid getting overwhelmed by your inbox.
Keep track of daily tasks with Microsoft's range of activity tools
Creating a list of goals to achieve is a great way to stay on-task throughout the workday. Instead of having a wall of sticky notes, go digital. Microsoft's Planner, To-Do, Lists, and Viva Insights make it easy to:
14. Use Insights to make better use of your time, assign dedicated Focus Time, and prompt you on outstanding actions you might have missed
15. Tasks-by-Planner, To-Do, and Lists make it easy to set due dates, reminders, and task priority, as well as assign team members (or external users) to certain items
16. Use OneNote to create quick notes like you would a sticky note. Productivity ramps up when your ideas, reminders, and more can be recorded and searched later using keywords for quick access
Use Microsoft Power Automate
Microsoft Power Automate is a powerful tool that allows custom workflows and automations to streamline daily activities. Power Automate can be used within other Microsoft productivity tools as well, including Outlook, SharePoint, and Teams. Leveraging Power Automate makes it possible to:
17. Automate routine tasks like sending regular reminders to team members, for example, a daily reminder of tasks due that day to keep everyone on track
18. Build custom workflows to automatically assign tasks to team members based on metrics like availability
19. Integrate platform productivity such as a workflow to automatically generate a new team in Teams when a project is created in SharePoint
SharePoint/Intranet
Wouldn't it be great to have a company-branded Intranet delivering your organisation's news, events, and communication platform, where your company can safely store, share and collaborate on documents? All of that and more is possible with Microsoft SharePoint. Create your own, bespoke company intranet using SharePoint to access the latest company news and updates. Here are a few of the possibilities:
20. Set up Team sites for all your individual teams' communication and collaboration requirements allowing those teams to see news pertaining directly to them
21. Create Project sites that allow external users to access data and vital plans and tasks
22. Deploy a company-branded communications page to keep your employees connected to what's happening within the company, including news, events, testimonials, and stories
23. Access company-wide forms, policies, lists, and files all from one location avoiding the need to send materials out individually or via email
Save Money by Consolidating
Apps
One way that many companies are overspending without realising it, is with duplicate applications, or in other words, paying a monthly subscription for apps whose functionality already exists within the Microsoft 365 ecosystem.  For example, if you're paying for a survey tool, opt for Microsoft Forms instead. Perhaps you're paying for a Work OS platform for project or task planning when you could be making use of Microsoft Planner.
24. Be sure to review these expenses, their functionality, and how Microsoft 365 could take on that challenge for you instead, allowing you to reallocate that budget elsewhere. By simply investigating the apps available within the Microsoft 365 subscription, you may immediately see apps that your team isn't already leveraging.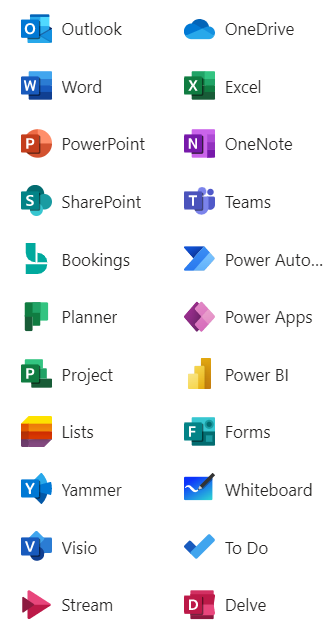 How We Can Help
25. Wicresoft can partner with you to optimise your use of Microsoft 365 through services such as:
Customised Microsoft 365 Productivity Healthcheck Report
This report is drawn from factual analysis and highlights your organisation's current engagement levels with Microsoft 365 and where further productivity benefits can be achieved. This is complemented by a sentiment-based survey distributed amongst your staff to offer further cultural insight alongside factual insights.
Microsoft Teams Training
This training bolsters the productivity of each employee, significantly raising the business' overall performance and using the allotted expense to greater efficacy.
Developing and implementing a bespoke company Intranet
Configured to the organisation's requirements using out of the box webparts to deliver events, news, and content. Pages can also be themed using the organisation's branding and navigation can be specified for audiences, so the user sees only what they have access to. The Intranet can also be integrated into Microsoft Teams for ease of access for the entire company.
Want to learn more about maximising Microsoft 365? Contact us today!