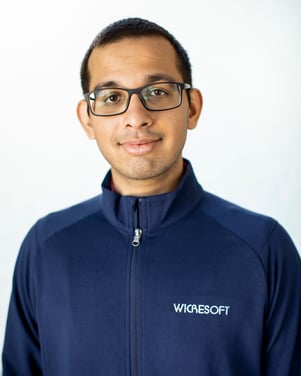 July 1, 2022 – Wicresoft is excited to announce that Hussain Merchant has been promoted to the position of IT Business Analyst.
Hussain joined Wicresoft as a Marketing and Operations intern in 2020. After a successful internship, it was apparent that Hussain was a great fit for full-time employment at Wicresoft. He made the transition to full-time as a Business Specialist in June of 2021.
"I'm extremely grateful to Wicresoft for this new title and their constant support in both my personal and private endeavors," said Hussain.
"

Hussain champions our company's core values through his commitment to forward-motion and with an insatiable curiosity about the tools, processes, and people around him. We are

delighted to announce his promotion to IT Business Analyst where he will drive operational efficiencies across our global organization - delivering on our mission, 'to be a part of your success,' daily for our internal teams.
- Katie Hayward, Senior Director
Thank you for all your hard work, Hussain, and congratulations!
---
Wicresoft was founded in 2002 as a joint venture with Microsoft and has since grown into a leading advisory, solutions, and operations firm with more than 10,000 employees worldwide.
Contact Information:
Wicresoft Media Relations Team
contactus@wicresoft.com