LISTENING TO A STORY: THAT'S HOW WE LEARN
In the words of infamous co-founder of Reddit and hacktivist, Aaron Swartz, "Be curious. Read widely. Try new things. What people call intelligence just boils down to curiosity."
Rob Oliphant, Wicresoft Solutions Architect, is the very embodiment of those words.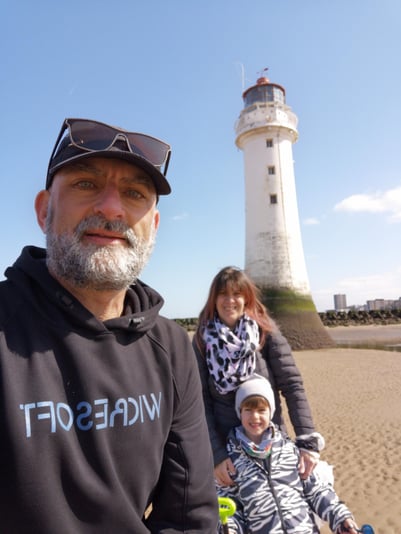 A UK Military Veteran of eight years, Oliphant learned the relationship between adaptability and curiosity early on.
"[I learned] adaptability—the art of adapting to different situations and environments—and with that came the need to be curious and to always to continue learning as a way to adapt," Oliphant said. "I like the curious aspect and angle, and it feels good to learn new topics and new things."
CONTINUAL LEARNING
To be adaptable in an ever-changing industry, Rob has obtained a number of certifications studying one hour after work each day and for another two hours over the weekend. "I do like to study and learn; our industry is always changing, and it's easy to fall behind."
In seven to ten hours per week, Rob has obtained the following:
Cisco 500-560 Networking on Prem and Cloud – 2021
Azure 104 Administrator – 2021
Azure 300 Architect Technologies – 2021
SonicWall Network Security Administrator Certified Engineer – 2021
ET15 -Sophos Central Endpoint and Server V2.0 Engineer – 2021
ESET Endpoint Advanced Certified Engineer – 2021

MS Azure

(For Cloud Platform Competency)

Systems Engineer Core Client

Systems Engineer Storage

ESET Engineers Certification

ESET UKT02 Encryption Technical Training
"I'm quite a disciplined learner, and as they always say, if you find a subject that interests you, the learning comes easy," he said.
But, Oliphant doesn't stop at merely IT. "I also read a lot of books at night, usually for an hour (not IT related)," said the avid reader.
POSITIVE INFLUENCES
The husband and father of two has had quite the influence on his son, Sebastian. "[He] is almost seven and has been using a computer since four," Rob said. "He loves Minecraft and OneNote, and generally anything to do with computers." His daughter, Anna Ivy, inherited his love of learning—studying Journalism and History at University.
The ultimate subject Rob would learn? "Learning more about life, myself, and the people I know."
CONCLUSION
Rob Oliphant is going places, and Wicresoft is elated to be along for the ride.
Rob works for the IT Solutions and Services division, based out of the United Kingdom.